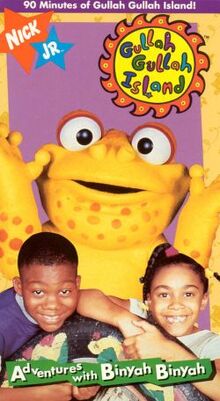 Adventures with Binyah Binyah is a Blockbuster Video-exclusive "Kidmongous" rental Gullah Gullah Island VHS tape featuring the Video from Binyah's Surprise, Play Along with Binyah and Friends and Dance Along with the Daise Family.
Contents
Edit
to be added...
Face Promos
Edit
Face Bounces
Face the Jigsaw Puzzle
Face Announces a Special Song from Gullah Gullah Island
Face Does His New Trick
Face Sings His Very, Very Short Goodbye Song
This is the Only Gullah Gullah Island Videos that have been above over 1 hour.
This VHS has five Nick Jr. Face segments, one after the Nick Jr. Trampoline ID
Community content is available under
CC-BY-SA
unless otherwise noted.